Cartier New Releases 2023| Explore the New Additions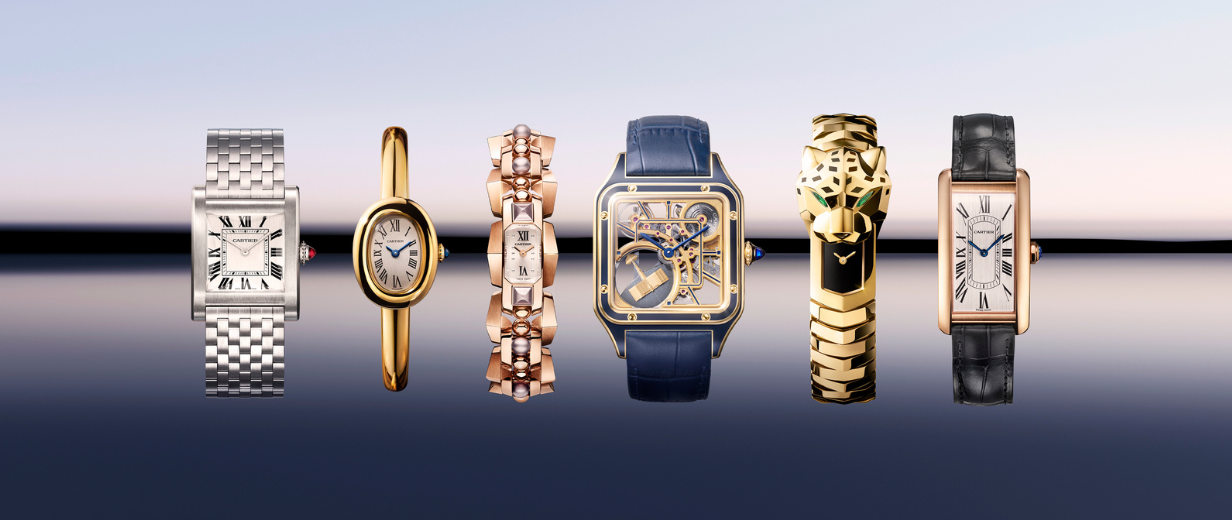 In the world of Cartier, time transcends the conventional linear notion and embraces a cyclical rhythm. It is within this extraordinary vision that the Maison continuously engages in a boundless journey of transformation and reinvention, perpetually propelling us into the future. With unlimited possibilities and infinite creativity, Cartier's new watch collections stand as a testament to this timeless essence.
March 2023 witnessed an exceptional moment as Cartier unveiled its latest novelties at Watches & Wonders, Geneva. Prepare to be captivated by the iconic lines of Tank and Santos-Dumont, as they take on a new dimension, a fresh perspective that pays homage to their enduring legacy. Amongst the novelties were also a myriad of one-of-a-kind jewellery watches, where precious materials and exceptional craftsmanship converge in harmonious unity. Each creation tells a unique story, elevating the art of horology to new heights.
---
A true emblem of Cartier's craftsmanship, skeletonised pieces have been a signature style since 2009. Embodying the essence of design through the play of empty spaces and meticulous movements. Stripped of their dials, they show the balance between suspended horological artistry and sculptural elegance.
In March 2023, Cartier proudly embraces a new era of creativity with the Santos-Dumont watch, featuring the exclusive 9629 MC automatic calibre, engineered to enhance this timeless masterpiece's iconic shape.
The original Santos Dumont model was created in 1904. This reimagined model keeps its legacy alive, with its infamously shaped case, visible screws and a beaded crown embellished with a blue sapphire cabochon. Every detail from the bezel to the case, and even the delicately hand-applied lacquer on the skeleton bridges, showcases Cartier's unrivalled artistry.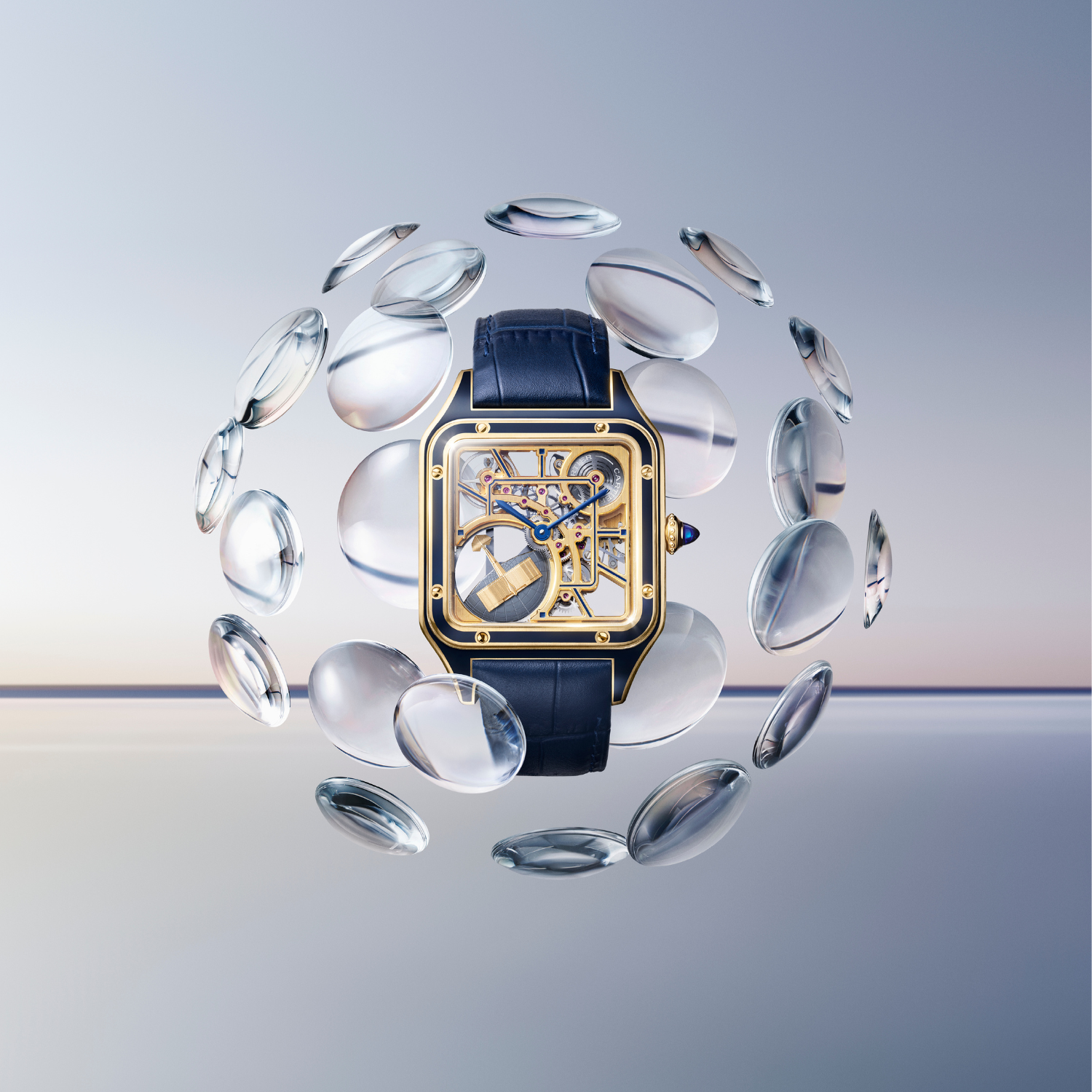 ---
Pushing the boundaries of watchmaking innovation, Cartier announces the Clash [Un]limited the timepiece they have described as combining finesse with power. Blurring the lines between a timepiece, a bracelet and a sculpture, this piece showcases Cartier's unique ability to meld opulent craftsmanship and visionary design.
With its multi-faceted form and bevelled edges, Clash [Un]limited is an extraordinary collection of five breathtaking pieces, each bearing a distinctive allure. Amongst the five versions include a gold model with an unusual gold that has been created specifically for Cartier.
At first glance, the Cartier Clash [Un]limited may deceive, effortlessly appearing as an elegant bracelet. Yet, beneath the beautiful exterior lies the timepiece's movement. From delicate beads to picot studs to the distinctive clou carrés, these renowned Cartier motifs intertwine to form a precious watch that defies convention. Cartier Clash [Un]limited stands as a testament to the Maison's unwavering dedication to pushing artistic boundaries, creating extraordinary timepieces that transcend the traditional.
---
Evoking a sense of ferocity and untamed beauty, this extraordinary addition to the revered La Panthère collection is a testament to Cartier's unrivalled expertise in crafting precious treasures. At the heart of this watch, the panther boldly closes its jaws upon a striking black lacquer dial, mirroring the spots that define its majestic coat. very detail is meticulously crafted in three dimensions—the refined nose, prominent cheeks, piercing eyes, and pointed ears exude an unmistakable aura of challenge and strength.
What sets this watch apart is the seamless integration of the panther's head into the bracelet—an entirely articulated design developed within the creation studios of the prestigious Maison. A single glance reveals the essence of the panther's spirit. Available in yellow or rose gold adorned with black lacquer and mesmerizing tsavorite eyes, or in diamond-paved white gold featuring captivating emerald eyes, this timepiece possesses an irresistible charm that captivates and commands attention.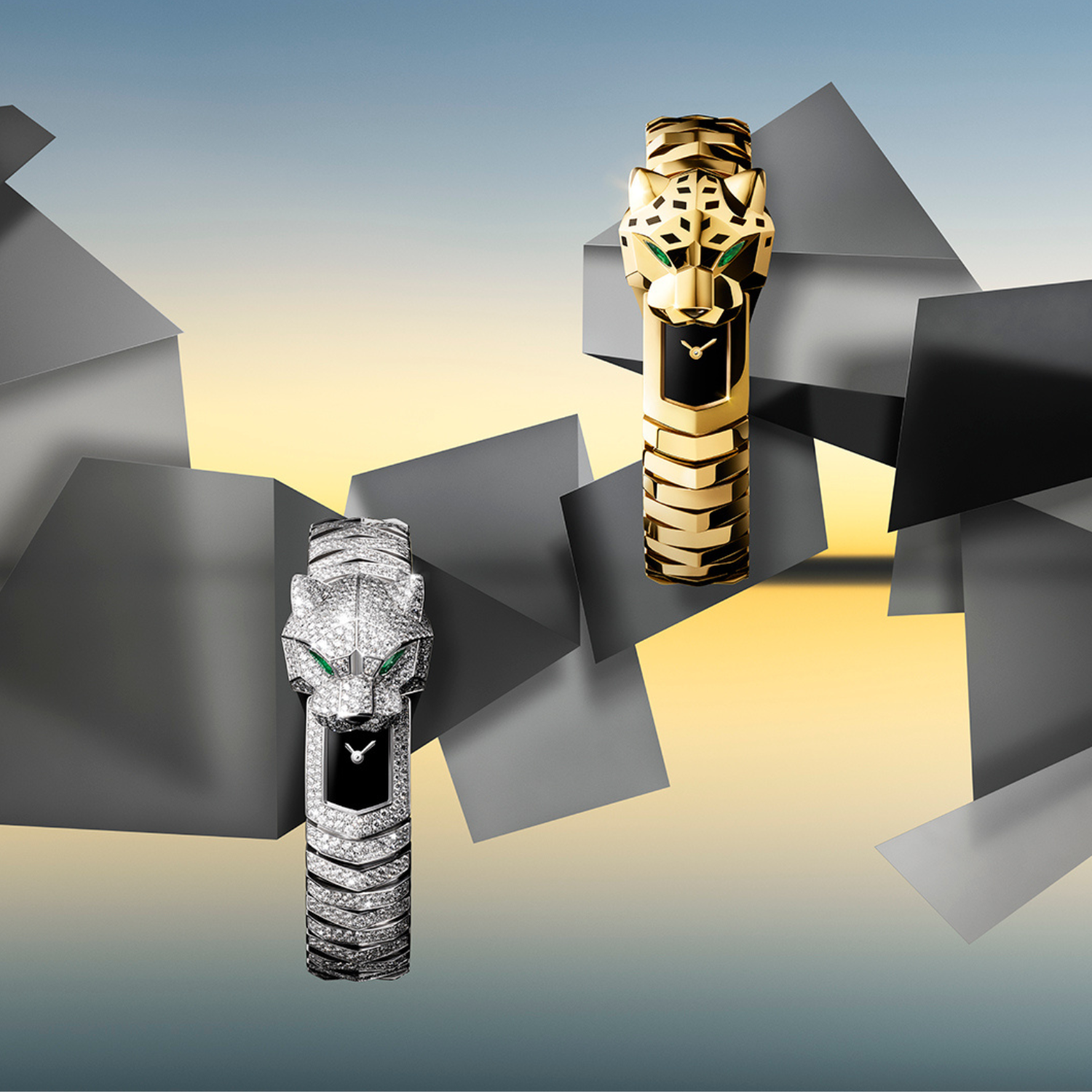 ---
Cartier at Weir & Sons
Discover the epitome of luxury timekeeping at Weir & Sons, where we have an exquisite collection of Cartier watches. Step into our Grafton Street store to view renowned ranges like the iconic Ballon Bleu de Cartier, the timeless Tank Must, the bold Santos de Cartier and the captivating Pasha de Cartier. From the sleek curves of the Ballon Bleu to the refined lines of the Tank Must, each watch displays a unique character that reflects Cartier's unparalleled artistry and attention to detail.
To enquire about the availability of specific Cartier watches, we invite you to contact our Watch Department by emailing watches@weirandsons.ie. Our dedicated team will be delighted to assist you in finding the perfect timepiece that resonates with your personal style.
---
For an immersive experience, we offer the option to schedule an appointment and visit our store to view the watches in person. Simply click the button below to arrange a date and time that suits you. Please note that while we strive to offer an extensive collection of Cartier watches, some of the new releases from the highly anticipated Watches & Wonders 2023 event, may not be available to view in-store just yet.