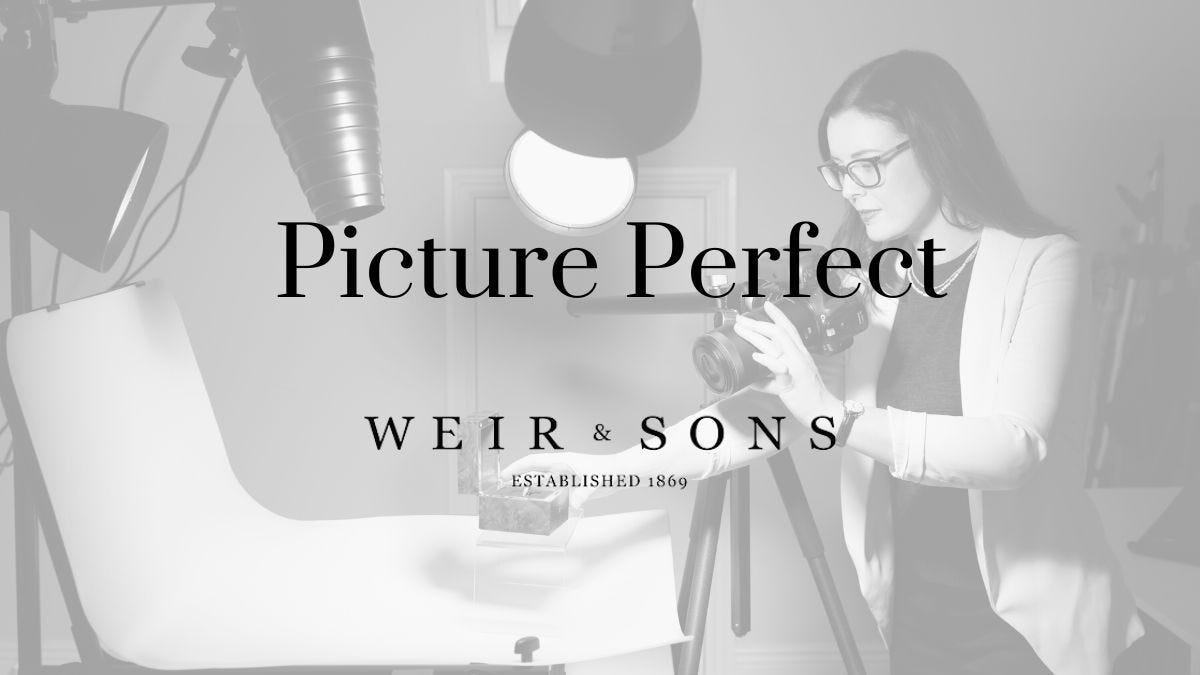 A graduate of Dún Laoghaire's Institute of Art, Design & Technology, Galway native Ethna O'Brien joined the team at Weir & Sons in autumn 2022, as our first in-house photographer. She talks to Kathleen O'Callaghan about being inspired by the skills of the store's resident silversmiths and engravers.
Ethna O'Brien is a world-class photographer with a keen eye for capturing the beauty of jewellery through her camera lens and presenting it artistically and with incredible flair. She joined the team at Weir & Sons in the Autumn of 2022, as our in-house photographer with the exhilarating role of producing inspiring imagery for a range of products.
She very much enjoys the elegance of her new surroundings where towering trophies, silver dinner trays and carved candelabras take pride in place alongside a host of gleaming goblets and a fabulous array of fine jewellery and luxury watches.
Ethna has an incredible eye for detail and a deep understanding of the craftsmanship that has made Weir & Sons what it is today. So how did Ethna get into the glamourous world of corporate photography? "I'm originally from Gort in Co.Galway and I came to Dublin after my Leaving Cert in 2010 to study Conceptual Art Photography at the Insitute Art, Design & Technology in Dún Laoghaire," she explains. "I really enjoyed the college and the whole creative world of the campus life. I gravitated towards getting a career in Dublin, so, after I graduated in 2011, I joined Adam's Auctioneers & Valuers, which opened my eyes to antiques and the sense of history that is passed from one generation to the next through paintings, ornaments and heirlooms."
After gaining experience at Adam's, Ethna continued her career progression, working with a list of prestigious jewellers and other auction houses before coming to join Weir & Sons.
"I really enjoy getting totally immersed in the photographic work," she enthuses. "There are amazing rooms here specialising in different collections from traditional craft silverware to the trays of exclusive jewellery," she beams.
"We are now working on putting special emphasis on the premium watch brands, as Weir & Sons has now become an official Rolex servicing centre." This is indeed a very special accolade as it means that Weir & Sons is not only an official supplier of Rolex but a service centre where you can bring your Rolex for a professional service to enhance its lifespan.
Ethna is captivated by the incredible talents of the entire team of silversmiths and engravers employed here, as well as the jewellery designers and ring specialists. For example, a magnificent diamond ring was recently privately commissioned and it is a work of art with a platinum white and rose gold band surmounted by a cluster of shimmering diamonds.
As Ethna O'Brien is learning, the sheer standard of craftsmanship that goes into each piece at Weir & Sons is simply breathtaking. Ethna will be studiously working her way through the luxury watches, both preowned and new, during the course of the forthcoming campaign, not to mention a vast array of rings, earrings and gold chains.
"We're aiming for Weir & Sons to have the most professional photo studio," she confesses. "The studio must reflect the calibre and quality of each piece no matter how large or small - from the largest grandfather clocks to the most delicate rings and intricate watches." Today Ethna is wearing a beautiful sapphire engagement ring. She currently lives in Kildare with her husband Vincent, a lecturer at Carlow University. "We were lucky to buy a gorgeous house in Kildare - a midpoint between Dublin and Carlow for our daily commuting," she says. "We live on the edge of the Curragh and it is a lovely location where you are close to the countryside but on the main artery to the city."
So, as an experienced jewellery surveyor with an expert eye - what is her advice for those who are setting out to purchase a special piece? "I think it's worth your while stretching yourself to invest in a very special item that will not only last for your lifetime but also can be handed down through generations," she responds. "It is really worth the initial financial outlay as the high street jewellery will inevitably fade and break but key pieces will transcend time and last forever. It's about investing in that piece of magic and that ultimate luxury purchase," she adds.
What favourite objects is she looking forward to photographing this season at Weir & Sons? "I love working with precious metals as it's quite complex trying to capture the various degrees of lighting and controlling the iridescence," she smiles. "I also lvoe the endless hues of different coloured stones and gems, no two are ever the same and it's that individuality that makes every special ring at Weir & Sons both exclusive and original."
Ethna O'Brien an her camera lens are established as another essential part of the skilled and talented team here at Weir & Sons. We create another facet of a chain that unites to make this a world-class centre of jewellery excellence.