Trend Report | Engagement Rings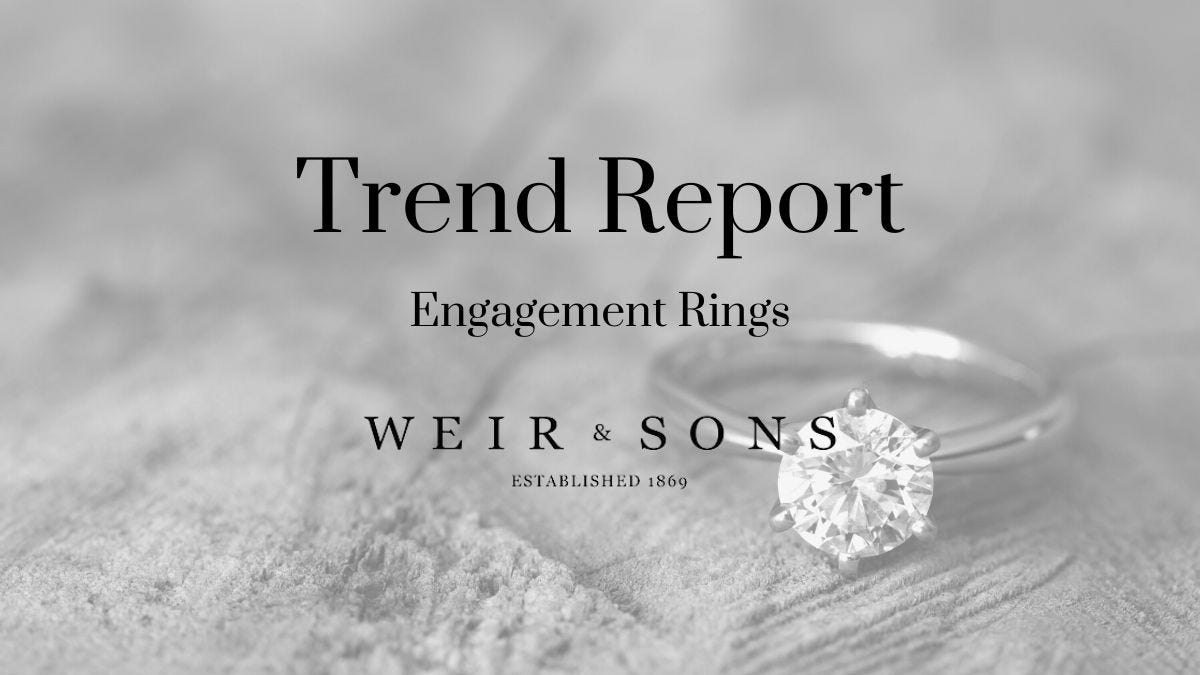 Making the Cut | Current Trends in Engagement Rings
Where did the tradition of engagement rings originate, you may wonder. Well, legend dictates that in 1477, a love-struck Austrian, Archduke Maximilian, came up with a gem of an idea: why not give Mary of Burgundy a diamond ring to celebrate their imminent engagement? He placed it on the third finger of her left hand - the finger believed by the ancient Egyptians to have a vein that led straight to the heart. It is not known if the marriage was a success, but we don't need to worry about that.
In the sumptuous jewellery department here at Weir & Sons, our staff like to give plenty of options when it comes to the purchase of what may be the most significant jewellery investment of their lifetime. We choose a selection of engagement rings based on qualities, trends and on price point, options are also given from three categories: new, preowned and lab grown diamonds. All of the new natural and lab grown diamonds are "eye-clean", have plenty of life, fire and brilliance to the stone. The majority of our diamond ings are certified using GIA and IGI reports.
When it comes to settings, we use platinum and 18 carat yellow gold exclusively, but we are happy to make bespoke metals and designs upon request. One stand out feature is that all of our engagement rings are wedding band compatible, with a comfort fit band, giving that luxury feeling when you put it on. Each section of the setting is thread-polished to ensure a brighter finish and all stones are set by microscope to ensure the security of the diamond. As for price, we stock a huge range of rings that run anywhere from €1,000 all the way up to €265,000, to cater for every budget.
In the past year, there has been a significant shift back to tradition, with lots of yellow gold, solitaire and three-stone rings reminiscent of what our customers' parents might have chosen when they got engaged. Oval and pear cuts are still extremely popular, but we are seeing more requests for radiant and emerald cut diamonds. These styles are synonymous with the art deco period.
Yellow diamonds are becoming increasingly popular, offering a new option to a coloured-stone ring. But, with all these new trending options, round brilliant cut diamonds are still the most desired, they are the ultimate classic engagement ring. We have also had a surge in interest with Lab Grown diamonds over the past year.
Our Lab Grown diamonds offer the same quality of diamonds, settings and certificates, as our natural diamonds. In line with the trending style, vintage rings are also experiencing a comeback, which is an environmentally sound option, offering unique styles with plenty of character.