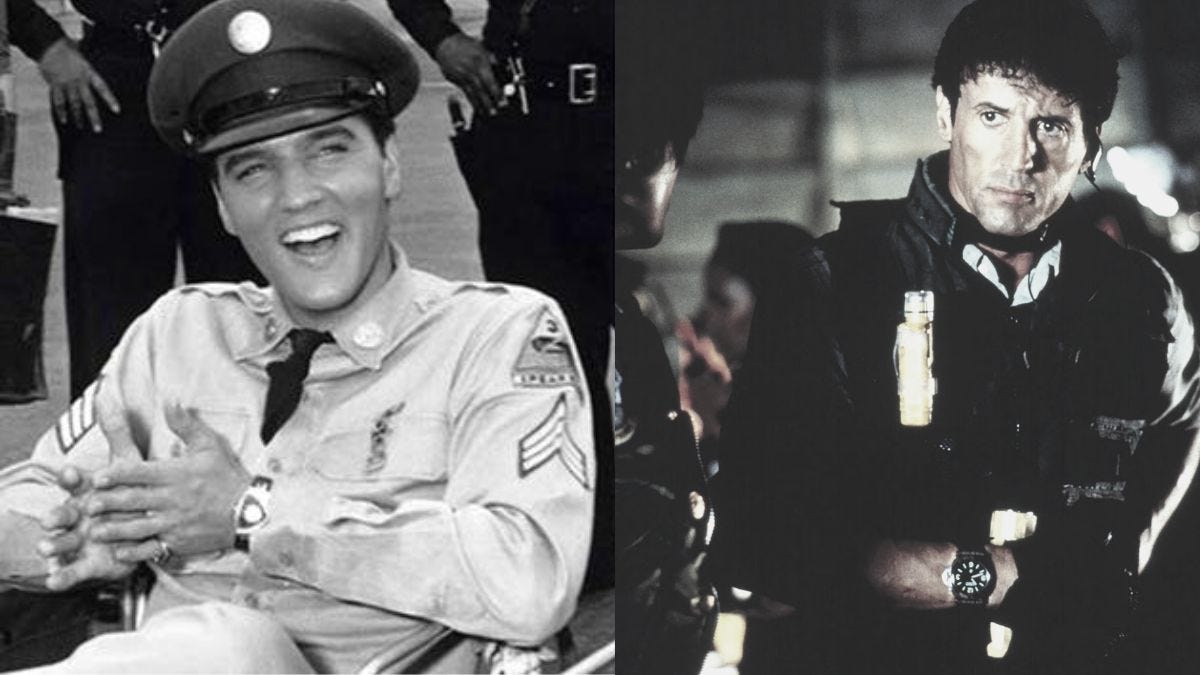 From Elvis' Omega Constellation to Paul Newman's Rolex Daytona we have clocked up some of the world's most famous watch wearers and the timepieces that defined them.
Want to know what makes a celebrity tick? Simple. Take a look at their watch. More than just a way to tell the time, each timepiece tells a story of the times: a glimpse into the lives and legacies of the biggest names that have shaped a contemporary culture. From politicians to actors, rock stars to rappers, we celebrate the horological hotshots and fashion firsts that made the big time.
Paul Newman
Actor and race car drive Paul Newman was frequently photographed wearing a 1968 Rolex Cosmograph Daytona - a gift from his wife, actress Joanne Woodward. Since dubbed 'the Paul Newman', the watch is noteworthy for its link to the world of motor racing, allowing drivers to measure elapsed time and read average speeds. Newman's own watch sold for $17,800,000 in 2017 - a record at auction.
The owner, James Cox, a former boyfriend of Newman's daughter Nell, is said to have donated a significant portion of the hammer price to the Nell Newman Foundation to support the continuation of her father's philanthropic work.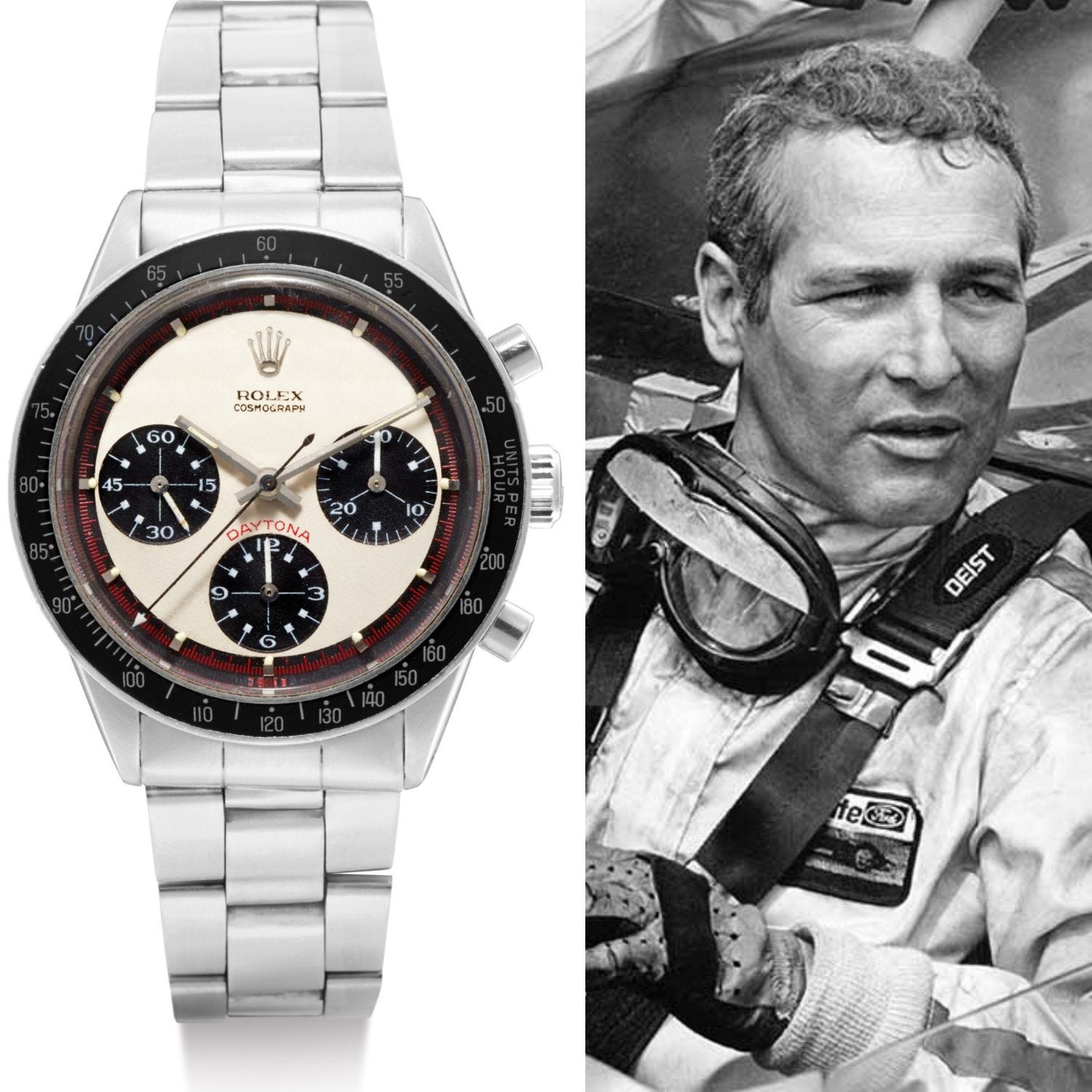 Elvis Presley
Time is money in the world of show business, particularly if you are Elvis Presely. Perhaps that's why the King of Rock 'n' Roll had such an extensive watch collection. Sold at auction for a cool $1,812,000, an 18k white gold, diamond-bezel Omega Constellation was gifted to The King in 1961 by record company RCA, as he was the first artist in history to sell 75 million records .
Known to share his wealth with family, friends and fans, the Tennessee-based star gifted members of his 'Memphis Mafia' entourage with Bulova watches (the Accutron and Accuquartz, in particular) from his personal collection - a stage favourite worn during this 1970s Vegas residency.
Another firm favourite of Elvis's was the iconic Hamilton Ventura watch, which gained its popularity when it featured on his wrist during the 1961 musical comedy 'Blue Hawaii'. It went out of production shortly after this, however the demand remained high and the return to production was confirmed in 1988. The latest release of Hamiltion Ventura's was to celebrate Elvis Presleys 80th birthday.
Queen Elizabeth II
Her Majesty the Queen received a Calibre 101 diamond-set timepiece from Jaeger-LeCoultre to mark her 2012 Diamond Jubilee, the 60 year anniversary of her reign. Set with a sapphire dial and 576 baguette diamonds in white gold, the watch comprises 98 miniscule parts. It weighs just under one gramme, making it the smallest mechanical movement in the world.
Having worn the original 101 timepiece to her 1953 coronation, Elizabeth II was quite the vanguard, choosing a brand that championed female emancipation in an era when it was deemed unseemly for women to be seen checking the time.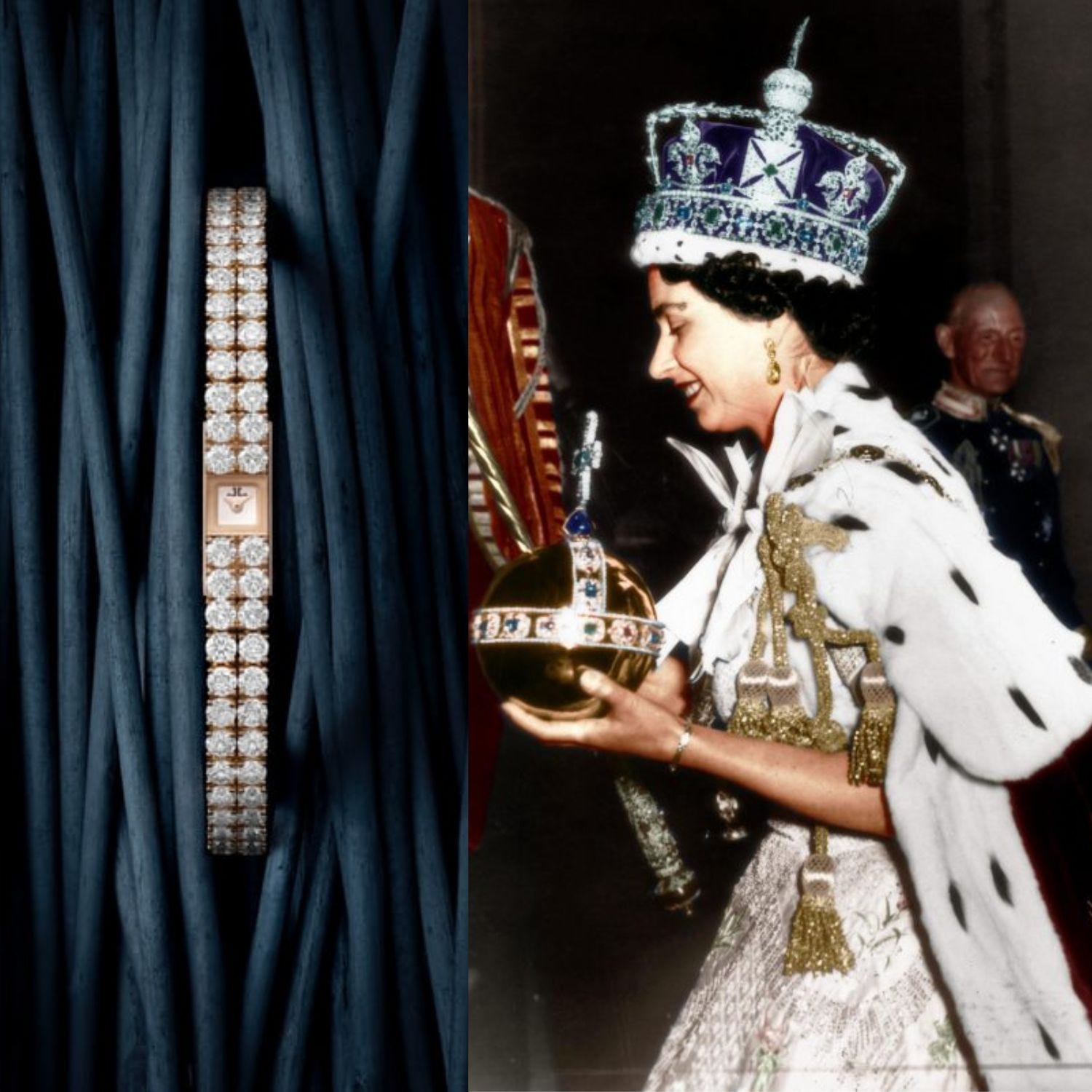 Richard Nixon
Master of timing, Swiss brand Omega has pioneered many firsts, not least of which is the Speedmaster. Known also as the "Moonwatch", Omega created a limited-edition gold version in 1969 to commemorate the Apollo 11 moon landing, with a total production of only 1,104 pieces.
United States president Richard Nixon received the first watch, engraved with his name and the text "To mark man's conquest of space with time, through time, on time", but reportedly refused the gift as its value was too high for an elected official to accept.
Oprah Winfrey
Media mogul and force of nature Oprah Winfrey is a busy woman. It stands to reason, therefore, that all elements of her life work in harmony, including her watches. A fan of the Rado True Thinline watch, Winfrey included the ultra-slim ceramic style, which is only 5 millimetres thick, in her 2013 O, The Oprah Magazine "Favourite Things" list for Christmas. The iconic watch is hypoallergenic, lightweight and versatile.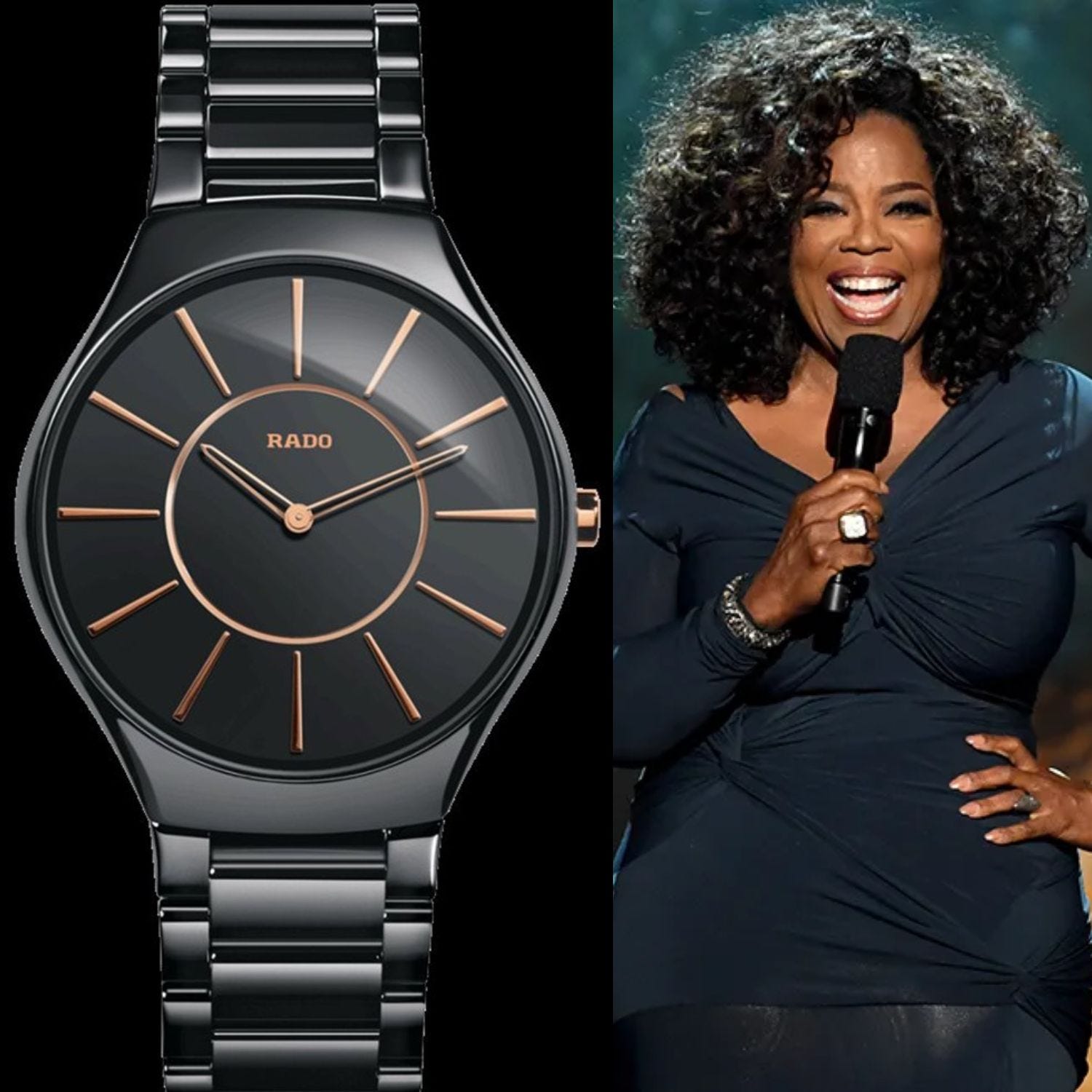 Martin Luther King Jr.
The Rolex Datejust is fittingly synonymous with the civil rights activist and Nobel Peace Prize winner Reverend Dr. Martin Luther Kind Jr. During World War II, the Swiss watchmaker's openly supported Allied forces battling Hitler's facist armies: a fearless act given their country's political neutrality.
Similarly, it is believed that King wore his gold Rolex, Ref: 1601, with its sluted bezel and Jubilee bracelet, during his August 1983 'I Have a Dream' speech in front of the Lincoln Memorial. Equal parts enduring and distinguished, the Datejust, like King, retains a quiet integrity that spans eras.
Sylvester Stallone
It is said that the Panerai Luminor watch has star power. Or, at least that's what action movie legend Sylvester Stallone is believed to have said. The actor became acquainted with the Italian brand and official supplier to the Italian Navy when preparing for the 1996 movie, 'Daylight' in Rome.
Not only did he wear it in the film, and in 2010's 'The Expendables', he also partnered with the brand on a limited-edition 'Slytech' capsule of Mare Nostrum and Submersible models engraved with his signature - gifts he gave to the movie crew and friends.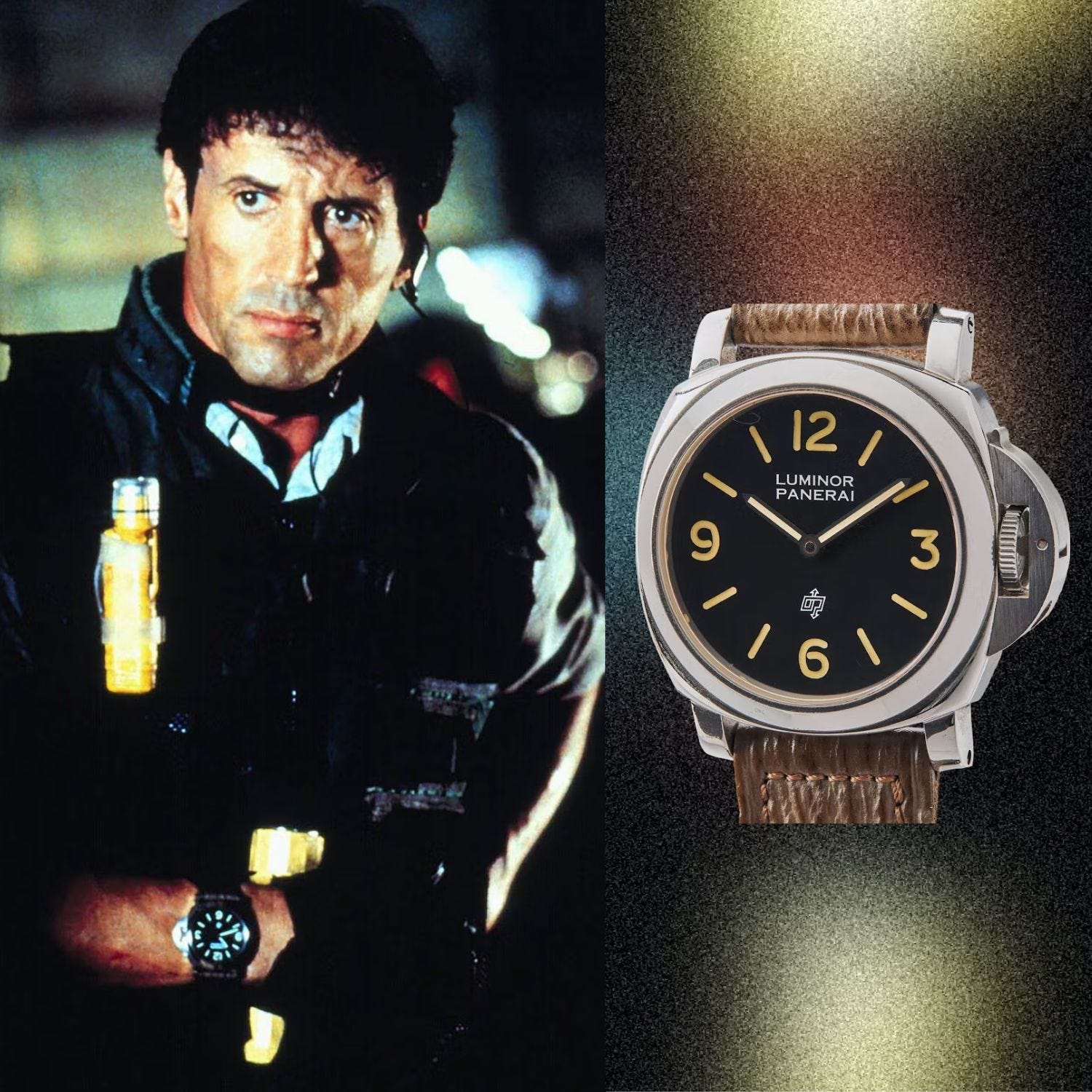 Ellen DeGeneres
Often seen sporting the Swiss brand on her wrist, Ellen DeGeneres houses a large watch collection, with many Patek Philippe timepieces. Including a stainless steel Patek Philippe Nautilus ref. 5711/1A with silver opaline dial, a Nautilus Annual Calendar Chronograph in stainless steel, a rose gold Grand Complications ref. 5204/1R-001 complete with Goutte bracelet, and an Aquanaut Travel Time ref. 5164 featuring a 'Tropical' strap.
Jacqueline Kennedy Onassis & JFK
The Cartier Tank holds a unique place in the Kennedy family dynaaty. John F. Kennedy was wearing his 18k gold alligator strap Tank on the day he was assassinated. Jackie Kennedy was also gifted an 18k gold model with lizard strap and cabochon sapphire crown.
Her Tank, a present from her brother-in-law Prince Stanislaw Radziwill, met a different fate. The timepiece was sold for $379,000 at a 2017 Christie's auction. The reported buyer is the unofficial First Lady of reality TV, Kim Kardashian.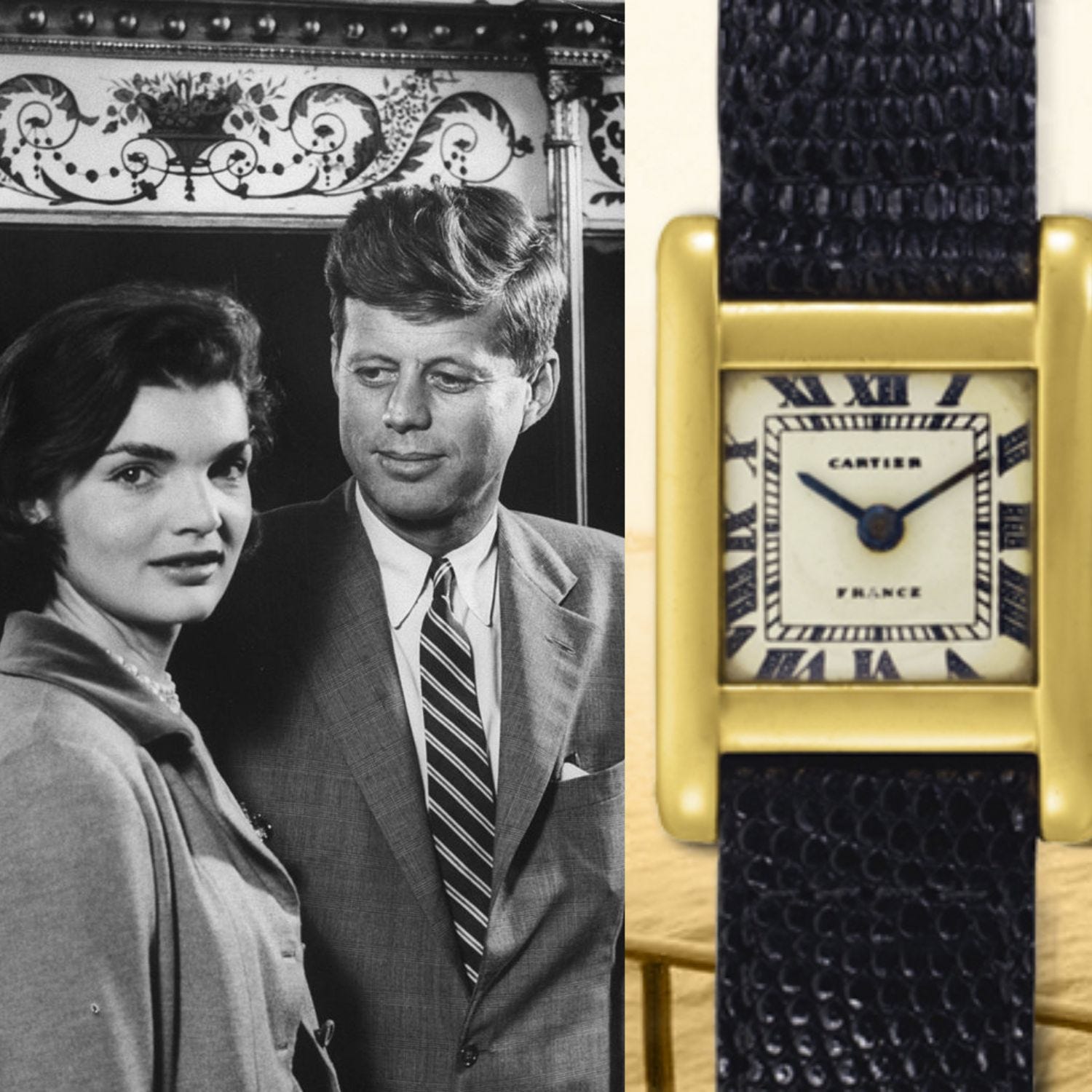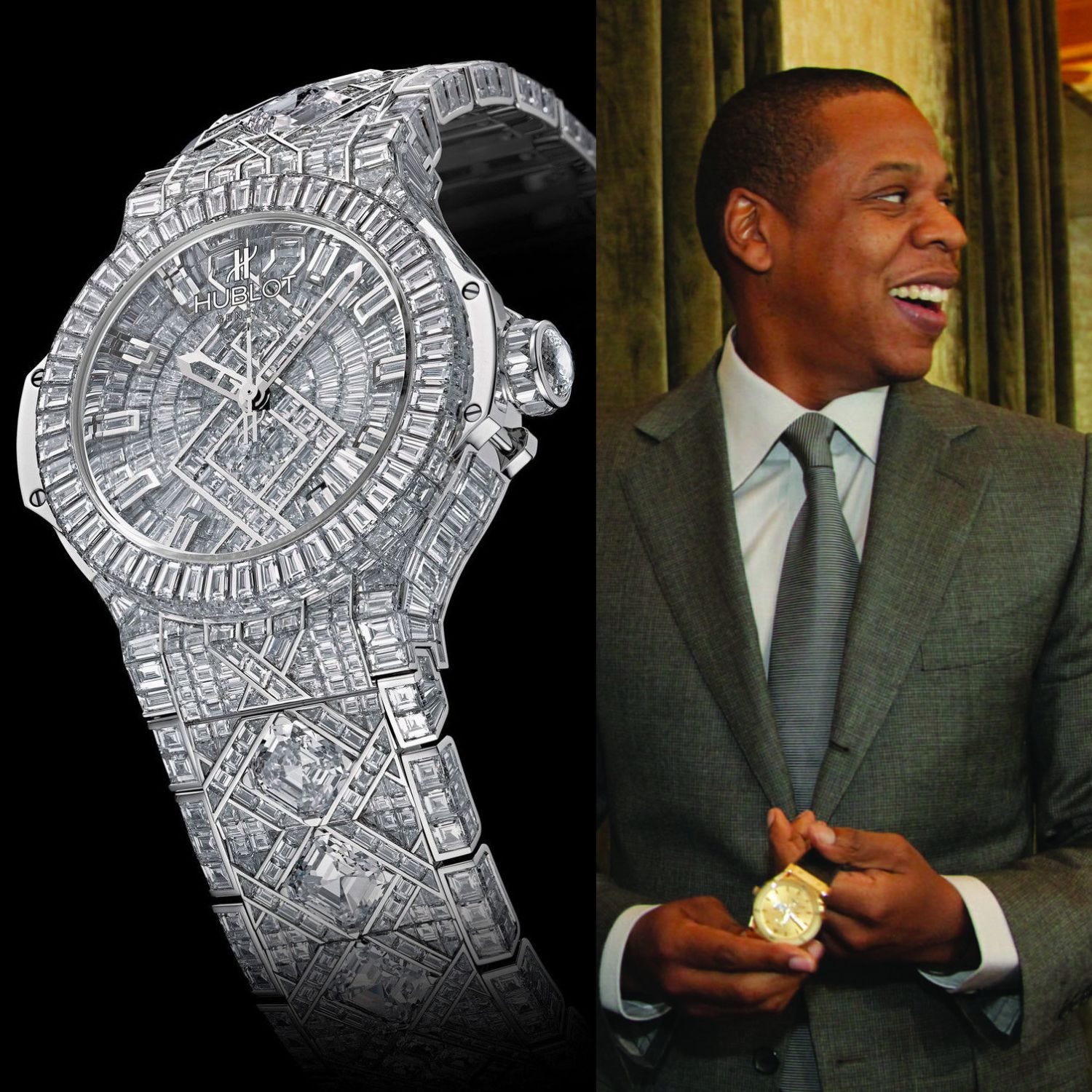 Jay-Z
An avid watch collector, rap iconoclast Jay-Z's taste ranges from the urbane to the urban, showing an equally strong affinity for Swiss Luxury brands, Jaeger LeCoultre and Hublot.
His JLC Grande Reverso Ultra Thin Tribute sits well with a tux, whether at the Grammys or performing at Carnegie Hall. A homage to the original Reverso, designed in its namesake year to prevent rogue polo balls from damaging the watches of British Army officers, the clever case flips back to front to hide, and thus protect, the crystal dial.
The 2.0 version maintains many of the original characteristics, with sleek updates to reflect its playfully polished image.
It must be hard to buy presents for this man, even if you're his wife Beyoncé. Its understandable that the pop diva allegedly chose a diamond edition of the 44mm Hublot flagship, Big Bang, given Jay-Z's successful 2013 Shawn Carter by Hublot collaboration. At $5,000,000 it is one of the most expensive watches ever produced, requiring 12 diamond cutters, five jewellery setters, a master cutter with 40 years experience and 14 months to complete.
Related Posts
Rolex and Yachting - SAILGP