Making Lifes Moments Since 1869
Founded in 1869 by Thomas Weir, Weir & Sons has grown to become one of Dublin's best-recognised luxury retailers. Even before you enter the famous landmark building on Grafton Street you know the shop is something special. Bright curved windows light up the street and on entering the store, your eyes are dazzled with displays holding thousands of luxury watches and jewels. With its charming front door panel and building steeped in history, it is almost as if stepping back to an era gone by.
A Family Passion
To this day, Weir & Sons pride themselves on being a renowned family-run business, with fourth and fifth-generation family members currently working at Weir & Sons. Having been passed down through successive generations, each has made their own amendments and adjustments to suit the needs of present customers. While Thomas Weir laid down the foundations, development took place under the wing of five of his children who were actively involved in the business. Jack, James, Willie and George ran different aspects of the business across multiple locations. In 1916, the name "Weir & Sons" was registered and in 1927, eleven years later, it became a limited company. The Weirs brothers showed great dedication to their work and, over a 50-year period, they built up the company to a peak of excellence. The second generation of Weirs to live in Dublin produced a dynasty to continue the business for many years. Maigread Weir, daughter of Willie Weir, married Arthur Andrews in 1943 and their son, David Andrews, great-grandson of Thomas Weir, ran the business until 2020. His son Christopher Andrews is the head of present-day business.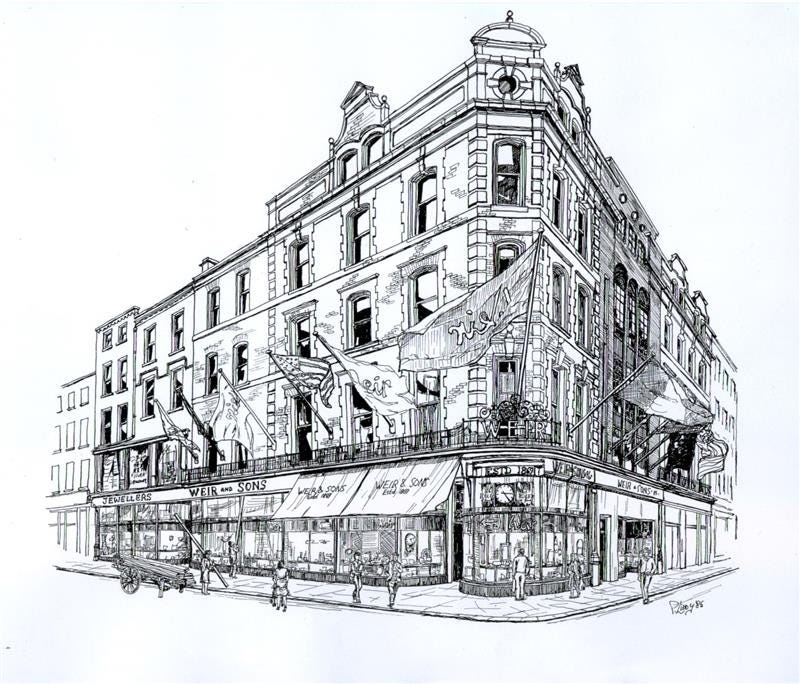 A Dedicated Team
"Weirs is a place where expectation meets reality". Weir & Sons of the 21st century is a business which combines the talents of young and vibrant staff with the tradition of quality and service of days gone past. We pride ourselves on maintaining a wide diversity of luxury goods, catering for all budgets and tastes, with designs of the highest quality from quality leading manufacturers around the world.
Today, it is still a family-owned concern giving employment to over 150 people in two locations, Grafton Street and Dundrum Town Centre. Weir & Sons is home to a wide range of departments which boast handpicked first-class staff, with quality customer service skills and expert knowledge in their sector. All Weir & Sons employees are trained to the highest standard. Departments include the Watch Department, the Jewellery Department, the Silver Department, The Fashion Room and the Service Department.
All our staff are committed to the highest standard of customer service. This is reflected in our utmost attention to each and every customer, where we aim to provide the 'perfect experience'. We are available to discuss the wide range of in-house services, including expert watch repairs, jewellery repairs, valuations, engraving and polishing. In our watch workshop, repairs are carried out by skilled technicians and appointed Rolex Service agents.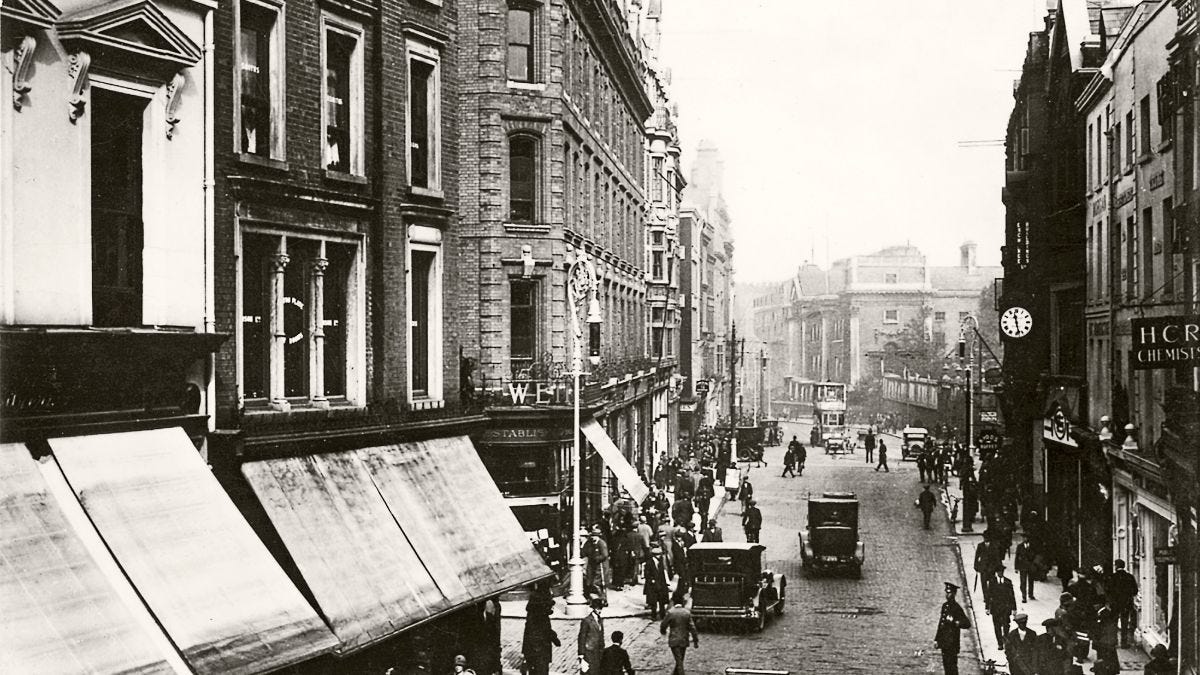 1869
Our Story Begins...
Thomas Weir, founder of the present day company was a working jeweller who laid the foundations for many generations to come. Thomas was passed down his knowledge and skills from his father Jamers Weir, who ran a leading jewellers for many years in Glasgow. In 1865, Thomas moved from his Glasgow home to start a new life in Dublin where he worked for Wests, a long established jewellers, specialising in the making of gold jewellery.
1870
Thomas Weir, Founder of the Company
At the age of 28, thomas decided to set up his own business in 1869. Soon thereafter, Weir went into partnership with a Scottish jeweller named Rgoers and together they ran Weir & Rogers on Fleet Street from 1869 to 1871. The company was a manufacturing jeweller making items for trade. Whilst he changed his manufacturing address four times, Thomas weir was embarking on the retail end of the business.
1926
The Famous Aga Khan Trophy was first made
Known as the Nations Cup, The Aga Khan Trophy was first presented for show jumping by his higness Aga Khan in the RDS Ballsbridge. Teams representing many European countries and the USA compete for the prized trophy at the Hore show to this day in August every year.
1950
China and Glassware at Weir & Sons
In the early years of 1950s, Weir & Sons expand into stocking china and glassware. 1950 was also the year Jacqueline Bouvier paid her first visit to Ireland, where she attended the Dublin Horse Show and caught a glimpse of the Aga Khan trophy. She would later return to Ireland with her husband President John F Kennedy.
1960
Some Famous Customer Anecdotes
Princess Grace of Monaco and her husband Prince Rainier visited Ireland. During their time in Ireland they visited Weir & Sons, with staff reporting the Princess to be perfectly charming and a very easy customer to assist. Another renowned name from the film business who quite often visited Weirs was Walt Disney, the cartoon film creator.
1969
Celebrating 100 years in Business
Weir & Sons has reached a significant milestone in its illustrious history. For a century, this family-run business has captivated Dublin and beyond with its exceptional craftsmanship and timeless elegance. From its humble beginnings to becoming one of the city's most beloved retailers, Weir & Sons has earned a reputation for excellence, serving generations with unrivaled quality and dedication.
1994
Celebrating 125 years in Business
Celebrating 125 years in business, Weir & Sons introduced the now iconic Weir red box. This same year, Ireland hosted the Eurovision song contest and wins for the third year in a row with the song Rock 'n' Roll Kids.
2005
The Opening of a New Store
Weir & Sons open a new store in Dundrum Shopping centre, the largest shopping centre in Ireland. The M50 Motorway is finally completed, 34 years after the route was first envisaged and 17 years after construction began.
2010
Refurbishment of the Grafton Street store
Weir & Sons refurbish the Grafton Street store retaining the original character of the shop while adding new features to compliment the early fittings. 2010 is also the year that Dublin airport opens its long awaited Second Terminal.
2019
Celebrating 150 years in Business
Celebrating 150 years in business, Weir & Sons commissioned stunning pieces to mark this superb milestone including a stunning Patek Philippe watch, a glorious Tsavorite and emerald pendant and a Silver commemorative plate, which was the first piece to be hallmarked in Dublin's Assay Office in 2019.
Today
Weir & Sons has grown to become one of Dublin's best-known retailers
Today Weir & Sons has grown to become one of Dublin's best-known retailers. Even before you enter the famous landmark building on Grafton Street you know that this shop is something special. The company is still a family run business with fourth and fifth generation family members involved.