Watch And Jewellery Repairs Service
CUSTOMER NOTICE:
Please excuse the appearance of our Service and Leather Departments during the period of January 8th - January 26th 2018 while we undergo some necessary upgrades.
The Service and Leather departments will be temporarily located on the Lower Ground Floor of our Grafton Street store during this time - business as usual.
For watch batteries and bracelet adjustments during these dates, please visit our watch department located on the ground floor.
For Service and Repair enquiries please contact services@weir.ie or visit us in store.
---
At Weir and Sons, Grafton Street, our Service Department undertake a wide range of watch and jewellery repairs on all manner of items. We have a dedicated in-house team of experienced Watchmakers who carry out service work to brands such as Rolex, Omega and Tag Heuer. We also have a team of highly trained Goldsmiths, Master Engravers, Silver Polishers and Watch and Jewellery Valuers. From battery replacements, watch overhaul services (including vintage items), jewellery repairs, silver repairs, engraving, polishing, pearl restringing to watch, jewellery and antique silver valuations for insurance and probate our service centre staff are happy to advise you how to best care for your treasured items.
SERVICE DEPARTMENT PRICES
VALUATIONS: €125 for the first item and €25 for each additional item.

BATTERIES: €14 for standard battery. €25 for higher brand.
TAG HEUER Battery & Reseal In-house €60
OMEGA Battery & Reseal In-house €90
PEARL RESTRINGING: €50+
WATCH OVERHAUL In-house €200-240 (If circuit required)
ROLEX Service In-house €680+
To view the steps of work performed when a watch is serviced please see our Watch for Service booklet below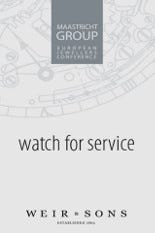 If your watch or jewellery items are in need of repair or service, please feel free to visit us in our Grafton Street store. You can call to speak to one of the Service Department team in Grafton Street at +353 1 6779678 or email us to service1@weirandsons.ie
Our Weir and Sons branch in the Dundrum Town Centre will also be happy to advise you with any queries you may have in relation to the care and attention of your items. For your convenience items may be booked in and collected from our Dundrum Town Centre branch for assessment by our Grafton Street Service Department. You can call to speak to our Dundrum Town Centre branch at +353 1 2157845 or email dundrum@weirandsons.ie